ODP in collaboration with Raleigh International, (A UK based NGO) made arrangements of field study/ activity in focus to Water and Sanitation activities.
2 volunteers team of 13 members each stayed for 60 days in Angallidoddi and Ankanapura, Kollegal taluk motivated the people and promoted awareness on health, Hygiene, importance of Water and Sanitation and hand wash practices through TP tap. Made wall painting in the local language.
They identified 6 beneficiaries – widow handicapped and very poor family. They constructed 3 toilets in each village with their contribution.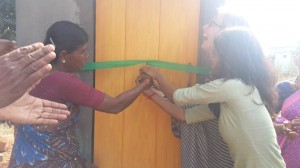 The verdict function was very well organized on 7th of December in both the areas Director, Program Manger and Project Coordinators of ODP attended the program, On this Occasion the toilets were inaugurated.

Volunteers shared their experience saying, it was a very good opportunity to know about the village culture and the struggles of village people. They thanked ODP and Raleigh International for providing an opportunity and it will be one of the unforgettable moments in their life.
Community members had good acceptance of volunteers they appreciated the volunteers work and down to earth attitude of foreigners/ volunteers