The International Women's day is a forum for women to raise their voices on issues and demand for necessary action to change the gender norms – so as to bring about gender parity. The day marks a call to action for acceleration of gender parity.  Women's day is an important catalyst and vehicle for driving greater change for women and moving closer to gender parity. International Women's Day is a time to reflect on progress made in the life of women, to call for change and to celebrate acts of courage and determination by ordinary women who have played an extraordinary role in their communities and regions
International Women's Day has been observed on March 8th in the premises of ODP office, Mysorejointly organized by                          MahilodayaMahilaOkkutaand ODP.  More than 1000 SHG women participated in the event. Women leaders and members of SHGs from        Mysore, Hunsur and H.D Kotetaluk of Mysore district participated pro-actively in the event. Smt. ManjulaManasa, Former Chair Person, Karnataka State Women's Commission inaugurated the event and delivered key note address.  Dr. Meera . Associate Professor, Institute for Development Studies, University of Mysore,  M, Harish, trainer, JCE, Sister Anne, Professor, Department of Christianity, University of Mysore, Rev. Msgr. Bishop K.A William, Rev. Fr. Staney D Almeda. Director, Rev. Fr. Alex PrashanthSequera Assistant Director, ODP, Mrs. Loreto Pinto and Mrs. Christina KanthaRaju , Board Members of ODP, Mrs. Jayamma, President MahilodayaMahila Okkuta were on the dais.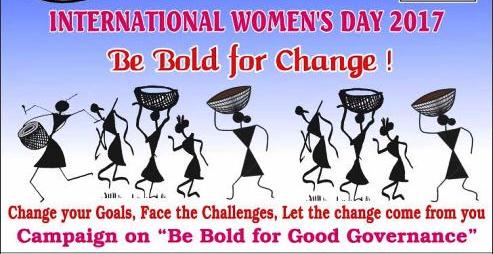 Be bold for change!is the theme given by the UN for the observation of the International Women's Day – 2017. ODP and Okkuta together called for the changes to bring in the lives of the Women, Communities, Local Self Government and its Governs by the Women in Sanghas. Hence the slogan was "Change your Goals, Face the Challenges, and Let the change come from you, Enhance your capacity for good governance in your area / community".
In solidarity, to mark this day ODP along with Mahilodaya Women's Federation organized series of events on the eve of women's day in five zones: Mysore, Mandya, Chamraj Nagar, Kollegal(Hannur) and Kodagu (Sidhapura) in Karnataka. The observation of Women's day intended to launch a campaign on "Be Bold for Good Governance".The day marked with celebration, reflection, actions thought provoking, and entertainment.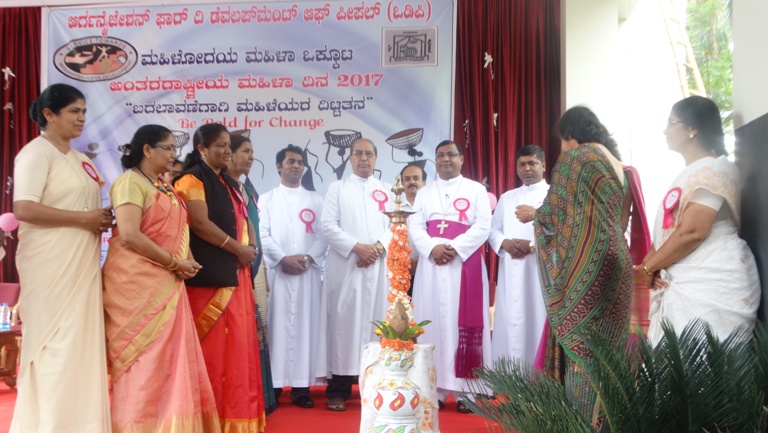 Smt. ManjulaManasa, Former Chair Person, Karnataka State Women's Commission and Advocate inaugurated the event and in her inaugural speech she said "Raise your voice when women rights particularly right to live has been denied andviolated"
While addressing the women she emphasized on to confiscate the stereo type roles and social norms that are confining us within the four walls. "The frame work being given to project us as Goddess, tolerant and Mother of Earth and accepting of the same can't be accepted any more. Reject and oppose those prejudices that are harming us. We need to tell them and make aware of them that we too have emotions and feelings, rights and fundamental rights.  We are also eligible to exercise our rights.  Our lives become meaning full when our rights and emotions are respected.  Along with this we have to raise our voice against the denial of our rights and being violated.  Those voices should reach UN. The process of raising our voices should be strong and consistent".
She also spoke about the prevalence of violence against women in the society.  She said "Today we are marking 107th International Women's Day, but yet to achieve the gender parity in our society.   Female are engendered species.  Female fetus is not safe in the womb itself. Denial of food denial of care and development right, abuse, domestic violence, dowry harassment, early marriage, rape – list of cruelty on women goes on.  This disgusting how long we have to tolerate this, no can't be tolerated any more.  Let us bring the changes and reverse the situation. Be bold for change!; Let the change begin from our houses and families, let women become teacher, going on tell them with love and it will change spontaneously. Live and Let live to others".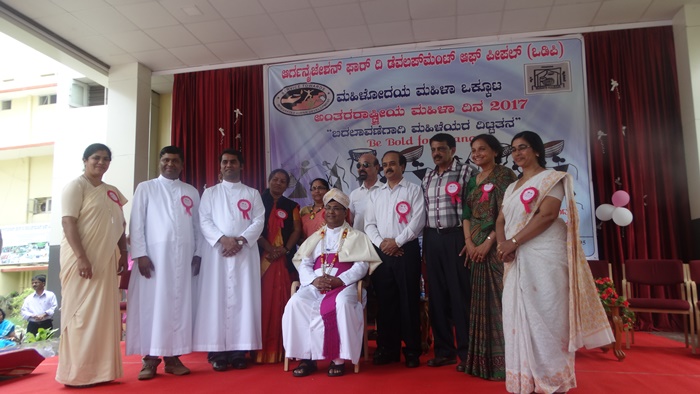 "We have implementing many programs and projects for women empowerment since 33 years.  Along with other projects I would like ODP to take up one project that would respond the pain, pressure and problems of women.  This may be the Santwana, a consoling and counseling center in the project areas very soon. These Santwanacenters would give answers and responses to your confusions related to your life and problems.  We also hope centers should strengthen your individualities and personalities.  I pray and wish you all of you to god give peace and prosperous in your life" said Most Rev. Dr. K.A William, Bishop of  Mysore and President of ODP.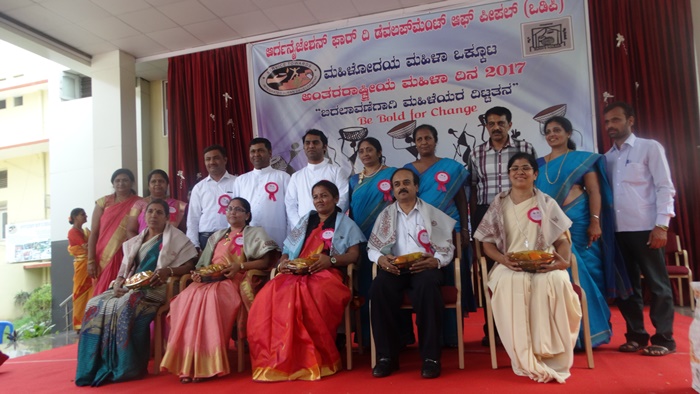 Key note Speaker Dr. Meera .M,  Faculty, Institute for development studies, Mysore University, : "The female fetuses are killed or aborted, just because the fetus is female. We have killed more than 3.7 million female fetuses.  The situation is grave for women and society that is denial of her right to live. This has to be changed.  This male preference norm has to be changed. Causes are remained in the patriarchal values that are deep rooted in the system and structure of our families.  So men in the society should play their role in the changing process. The call for Be bold for change is not only for women, also for men.  Men have to be bold to achieve the goal of gender parity in this society.  One can't bring the change, if we continue to follow the social norms and beliefs.  We have to un pack those norms that are harming women lives and address it boldly, Be bold to address and remove the patriarchal values  and raise the voice against violence and injustice. "Urge men to understand the situation. Create the environment of gender parity at home.  Let them learn gender parity from their childhood itself and bringing them up. Keep together the gender sensitivity in men also.  Let us bring the changes together both Men and women. Hence change should be towards this direction. And thus the change will sustain in the system and society she said. The boldness to bring the change is not only for the women, men also take bold step in changing the gender norms" Dr. Meera Said. Further she stated the hope of change light and said "Let us light the lamp of the change in our communities and extend the solidarity to women, Let us bring the changes in our life style, not only changes in cloths but also in our thinking".
Smt. ManjulaManasa, Former Chair Person, Karnataka State Women's Commission and Advocate, Dr. Meera, Faculty, Institute for development studies, Mysore University, Sr. Anni, department of Christianity, University of Mysore were felicitated.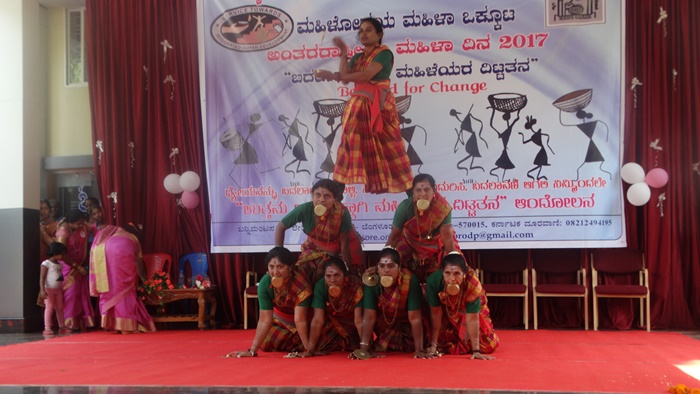 Cultural Programme :Kamsale, a folk performance by  Chunchashree balaga, women team,Mandya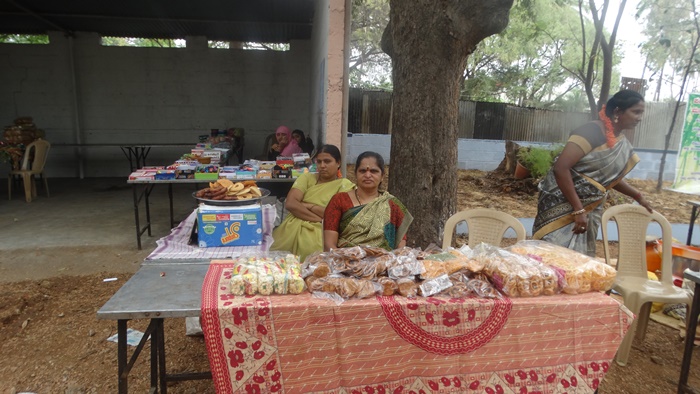 Rural Mart, a rural retail out let of Artisans and Women entrepreneurs from Self Help Group and Members of Farmer Produce Organization, These women are also beneficiaries of Income generation program under different projects implemented by ODP. Also financial support has been given to them. 10 women entrepreneurs from SHGs put up the stalls in the venue.  Cosmetics, Snacks and fried items, Juice, Fancy items and readymade garments were sold in the stalls.
                                               Media Coverage  on  IWD