In Mandya, International Women's Day has been observed on 13th of March 2017 at RaithaSabhangan, Mandya. An average of 600 women participated in the event.  The women force and enthusiasm was extremely high and expressed the united strength of womenin the district. Sangha members and leaders from 220 SHGs, Elected Women Representatives of Local Self Government from Six GramaPanchayats from five taluks; Mandya, Maddur, Nagamangala, Pandavapura and Srirangapattana. Stake holders from Govt. departments such as Deputy Director, Women and Child Development and District Development Manager of NABARDA, and Farmer leaders and President of ZillaPanchayat, Mandya were presided on the dais. Rev. Fr. Staney D Almeda, Director ODP chaired the program. Rev. Fr. Alex PrashanthSequera, Assistant Director, ODP,Mrs. Jayamma, President MahilodayaMahila Okkuta were also presided in the event.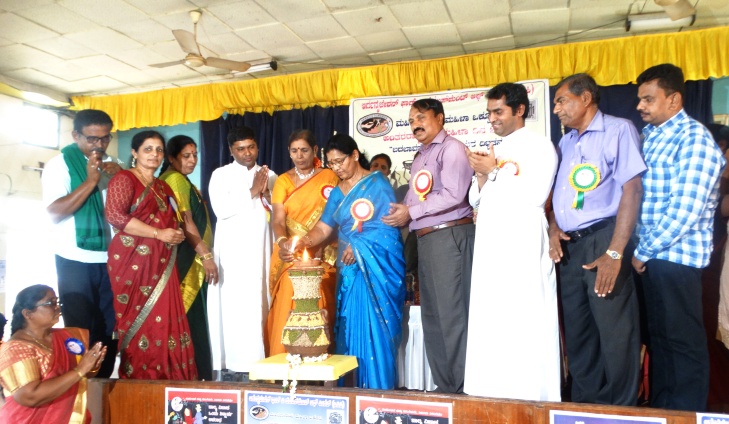 Rev. Fr. Staney D Almeda, Director ODP in his opening remarks said "Women are strong by birth itself and God created them stronger than Men. While narrating the story of creation of strong woman as part of the creation of Universe he said, "Women in this society have to be respected; Yes she cheats herself, as a mother, daughter and wife. She is everything.  When god created this universe with in a short span of time but he took a long time to create woman, because God wanted to give her patience, tolerance, courage, resistance, goodness, love, ability and strength to work more than 14 hours. Inculcating these characteristics within woman took long time.  Her cheeks are soft but she is strong from inside.  Don't think you are week, you are strong enough, and this patriarchy system has weakened you.  You bring the changes in society as well system.  Remove the patriarchal values and use the society for your own advantages.  Do not hesitate and come out of the clutches of patriarchal values, be bold for the change and changes to bring in your family, society and community.  Wish you all happy women's day"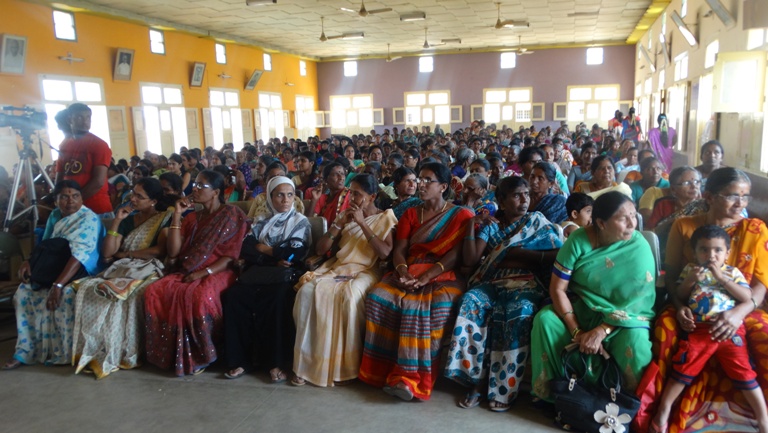 50% reservation for women in Elections at all levels:Sri. Shambunhalli Suresh, President, ZillaRaithOkkuta addressed the women.  In his inaugural speech, he said "I have seen three generation of women in my life; my grandmother, mother, wife, daughter and now daughter-in-law.  There are little changes happened in the recent days.  Otherwise women are labor machines, continue to work.  The patriarchy society prevented women to coming out of the four walls.  Women were called in the name mother earth, Lakshmi, Saraswathi, Ganga and give her important position, but in reality this male preference society didn't give her equal status and positions.  In the 21st century still we are taking back steps to give her positions.  We are in such a worst position.  Our leader calls her crow, dog, and donkey; because she wants to share even small amount of food also she calls everybody like crow to give the food to her children, husband and in laws other family members.  She works in the seven days in a week without any rest or leave like donkey. If woman take rest others in the family have to starve.  She play a vital role in agriculture, her labor is double than a man and She play important role in feeding this country.
Continued to speak with cut throat and provocation speech and said "We are getting disgusted with your continued silence for the violence happening on women.  Men and this patriarchy society will continue to dominate and abuse women more until you wake up.  Today we have seen woman headed Zillapanchyats because of 50% reservation for women.  Ask for 50% reservation in Legislative assembly and parliament. Take the bold step for the struggle. Don't hesitate or have fear and quit these two things from your life.  You are not fighting against Britishers, you are citizens of this country, be bold to fight against the system and Government.  RaithaSangha extends its support to women struggles" he said.
Mr. Suresh Acharya, Trainer from Lead Bank, Mandya spoke about the importance on financial inclusion for the economic development of women. He advised to go for bank loans.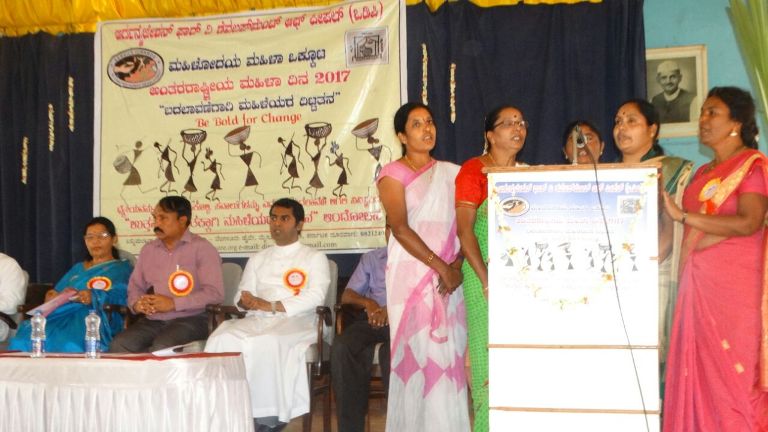 Mr. Diwakar.S, Deputy Director, department of Women and Child Development, Government of Karnataka, Mandya district delivered key note address.
Increase in Violence against women since sharp decline in sex ration:  Mr. Diwakar.S emphasized on education for girls without discrimination and gives the information for women and enhances their knowledgeand change occurs itself.  "First change yourself and then bring the changes in your surroundings.  The reason for vulnerability of women is lack of education.  She also deserves education, educate her without gender discrimination". Male preference and sex selective abortions has denied right to life for her. Mandya district stands second in sharp decline in sex ratio. This district is known for Female feticide and sex selection. Reverse this and work for reaffirming the values of girl child to change the sex ratio scenario" he said.
Women are being organized as Self Help group.  But this will not bring changes since information on your rights and privileges made in the legislations is also important.  Property rights to women yet to reach her.  You are not demanding for your share in property from your parents and also not willing to tell your husband to give share to sister in laws in your matrimonial homes.  Hence changes should occur in your thinking and mind set. Many researches have proved women are best financial managers.  When there is no money in the food storage bottles, you will manage to get the loan from SHGs.  But economic empowerment of women has not happened.  Understand the entire banking system, women are rejecting when they are giving less percent of their own bank deposit and bank offers loan 14% of interest based on their own deposits.  You have to gain knowledge on finance and Banking to change the system he said.
He also said "Women should participate in main stream politics and many more voices of women should be heard in politics.  Understand the value of your votes and set your long and short term vision, after 5 or 10 years what are the changes should be brought in this system.  Be bold to bring changes and strong.  Enhance the political capacity of women and make women to contest and win in the Panchayat elections in more nos. Despite of 107 years of struggle for equality not much difference is seen, still lot more has to be changed. And for that change women's has to be Bold he said.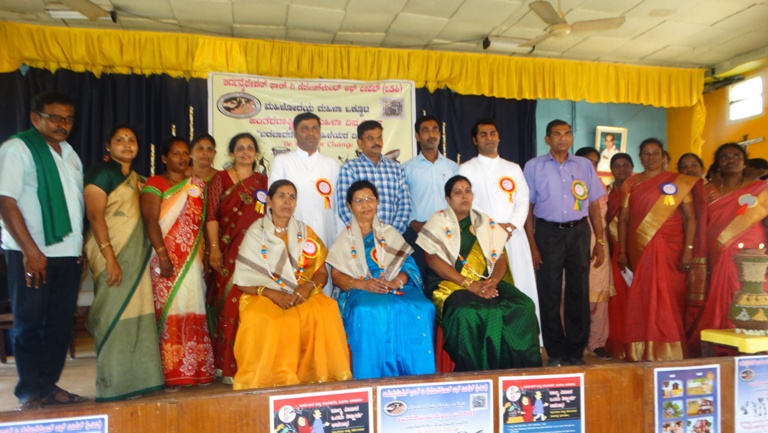 Felicitation Programme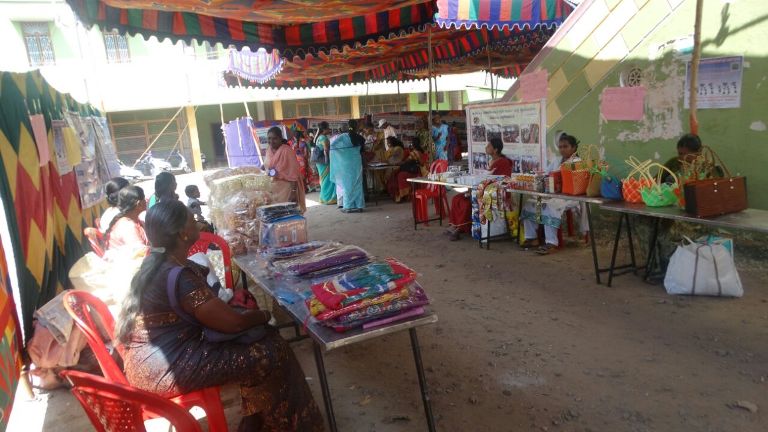 Stalls Photos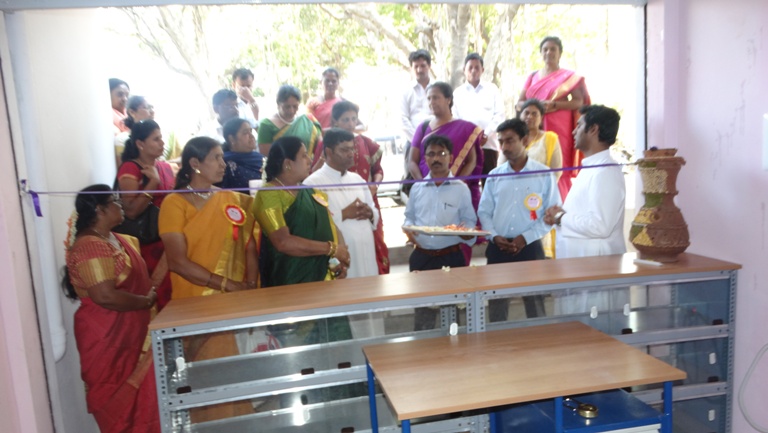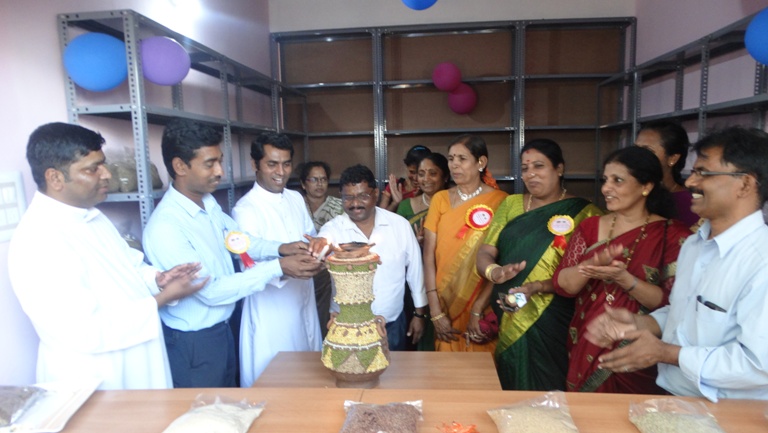 Rural Mart, a rural retail out let of Artisans and Women from Self Help Group and Members of Farmer Produce Organization, has been inaugurated on Women's day in Mandya.  This has been set up to facilitate market linkage for agro based and handicraft products, artificial ornaments, snacks and stationery. The outlet also supports to cover the risk involve in preliminary stage, also to promote orders and to cater the needs of the consumers in semi urban cities.
Rural Mart and Divisional office of ODP in Mandya was inaugurated by Sri. PrabhuDevan, DDM Lead Bank, Mandya. And Rev. Fr. Staney D Almeda, Director ODP, Rev. Fr. Alex PrashanthSequera.  Both the Directors blessed and wished for the smooth functioning of the Rural mart and called the farmers and women entrepreneurs to utilize the space effectively.