In Hannur, Kollegaltaluk observation of International Women's Day was held on14th ofMarch at GouriShankaKalayanMantpa. More than 1000 rural women who are farmers and agriculture labourers,  participated in the event. Participating women were also representing 400 Self Help Groupsin Kamagere, Madhuvanhalli ,Kollegal, Gundapura, Martalli, Vaddaradoddi, Thomiyarpalya, Yelandur and nearby villages.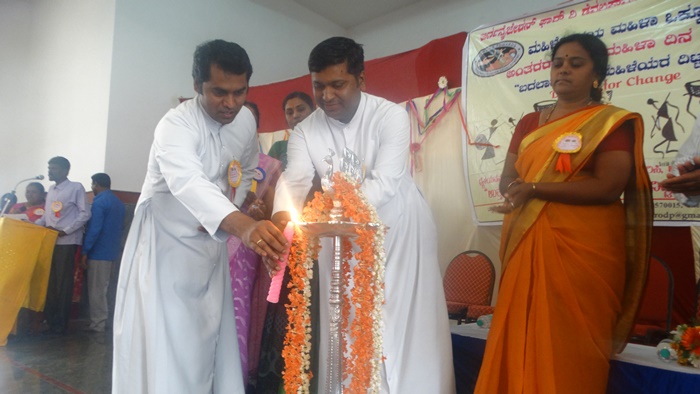 The observation of women's day was inaugurated by Rev. Fr. StaneyD'Almeda Director of ODP Mysuru,  Rev. Fr. Alex PrashanthSequeira  Asst. Director.
"Women are also equally talented. Appropriate forum is required for the articulation of their talents.  She is supreme, and can't be described in simple words.  God has created women carefully and spent more time for the creation.    Because she has to have greater strength to do all work and should have a strength to work more than 18 hours in a day.  In reality women despite of strengths she is having experiencing abuse and violence.  Women are set ablaze, Husband and in laws are victimizing her for dowry demand from her parents.  In this context woman has to be bold to combat with this kind of situation.  She has to be bold to fight against such violence's on her to live for herself.   Today you all have come together to mark the women's day.  This is the change and achievement.  Hence you have to bring changes for yourself and your sake.  Mother has to inculcate the values of gender parity and no to gender discrimination for her children.  This should be taught from the home itself.  Husband may be irresponsible or drunkard and he is died, it doesn't matter, mother can bring up her child, but whereas man without his wife alone can't take care of children.  So mother is greatest human being on the earth and she has to be respected and her voices should be heard, she has to lead a life without violence also given a call to women be bold for change"  by Rev. Fr. StaneyD'Almeda Director of ODP Mysuru.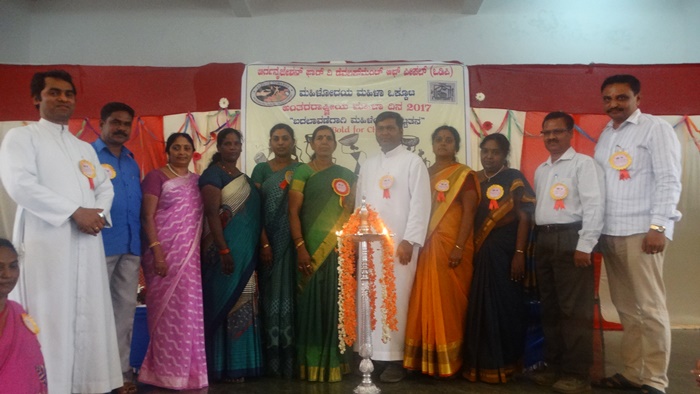 The Key note speaker of the day was  MrsV.Vani  Asst. Professor Dept.  of Economics   G.V. Gowda Govt. First Grade College, Hanunru. She spoke on comprehensive development of women. " today in the society by giving the examples of  prominent women  like in education, health, political field and many other.  She said all women need to give preference for the education of their children ,, only education can bring  the change in the lives as well as in the society.  The stages was shared by  the special guests invited were  Mr. Mohan Krishna from Hanuru Town panchayath , Mr.N.MAnkaraju  Asst. ,Range  Forest Officer ,  Mrs. Shivaleela, Anganawadi Super wiser, Kvolegal,  Mrs. Sumathi   Project Manager ODP. Mrs. SunithaPorgramCoorsnatorWEP , ODP, Mrs. Jayamma president mahilodya Women Federation ODP, MrsMarakka secretary  District Federation Kollegal …  The program was  colorful  with    the cultural  activities performed by the staff and  children from St Francis Xavier school Kamagere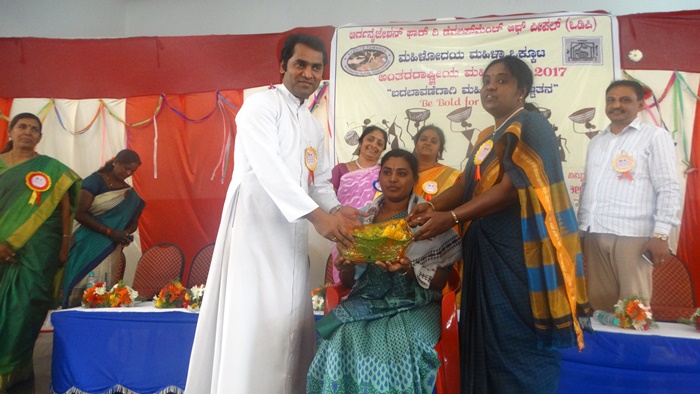 Felicitation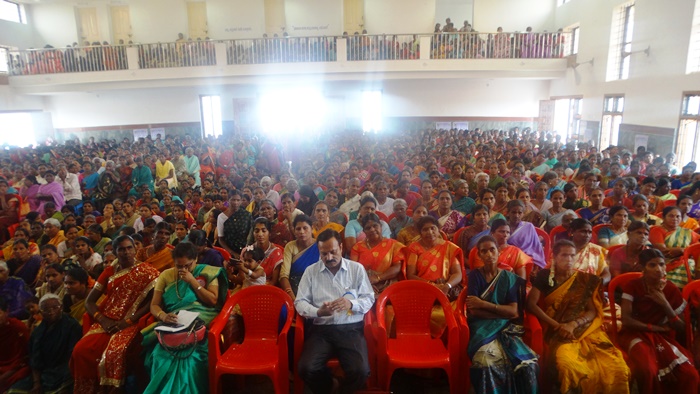 Cultural Programms
                                                                                       Inauguration of MahilaSanthe