In has been observed on 15th of March 2017 at Centenary Hall, Church campus in Siddhapura, Kodagu district. More than 1,200 women participated in the event. The Women's day marked with celebration, reflection, actions and entrainment.
Women cutting across the caste, class and religion: The gathering in Siddhapura was an integration of all cast and class and religion in common forum. Women from Bilwas, primitive tribal, Kodavascommunities', different language speaking Konkani, Malyalam, Urdu and Kannada also from Hindu, Muslim, Christian religions.  Women force and enthusiasm was extremely high and expressed the united strength of women in the district. Sangha members and leaders, Elected Women Representatives of Local Self Government from eight GramaPanchayatsfrom Somawarpet, Virjapet and Madekeritaluks. Stake holders from Govt. departments such as Deputy Director, Women and Child Development and District Development Manager of NABARDA, Event was chaired by the Director Rev. Fr. Staney D Almeda and Introduction was given by the Assistant Director Rev. Fr. Alex PrashanthSequera of ODP.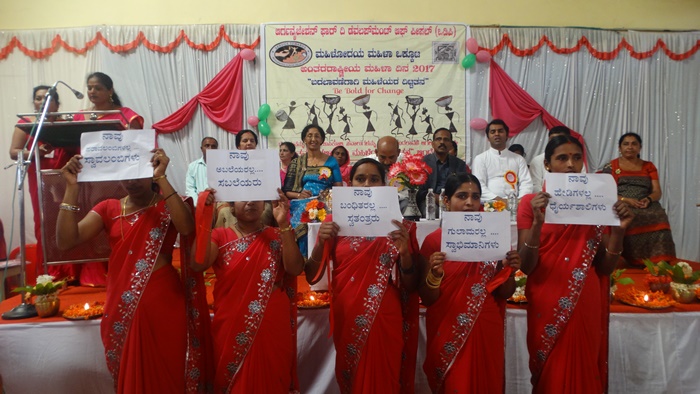 During the inauguration of the event women from sangahs symbolically demonstrated the liberation of women from shackles.  Women pronounced; "we are not confined, we are independent; we are not hasty, we are courageous, we are not in capable, we too have capacity, we are not dependents, we are independent, We are not slaves, We too have self-image".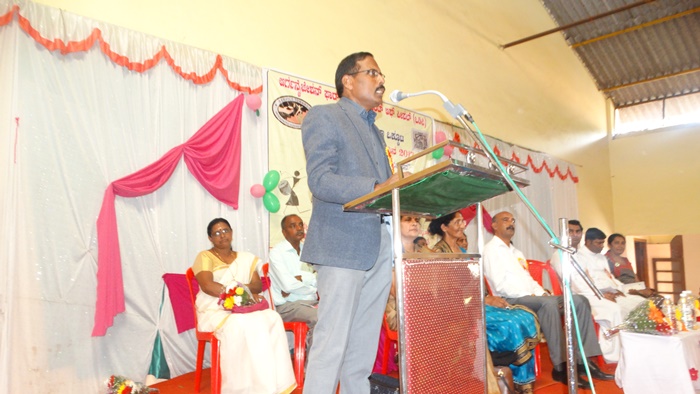 Director Fr. Staney D. Almeda gave an introductory note on marking of women's day and its relevance today.
District Commissioner of Kodagu Dr. Richard D'Souza inaugurated the event. While speaking in his inaugural speech he called women to organize them to join the mainstream of society for their own development.  "The change in women development is very much needed.  Government has been implementing many schemes and facilities for the women empowerment. Every woman should be aware of these schemes and make use of these schemes for the self-reliant.  Women should organized and come to the mainstream for the effective utilization of such schemes. He called women should take role in the development of the community.  Hence women have to be educated along with creating awareness on social epidemics.  Organizing women and awareness has to be taken up non-governmentorganizations.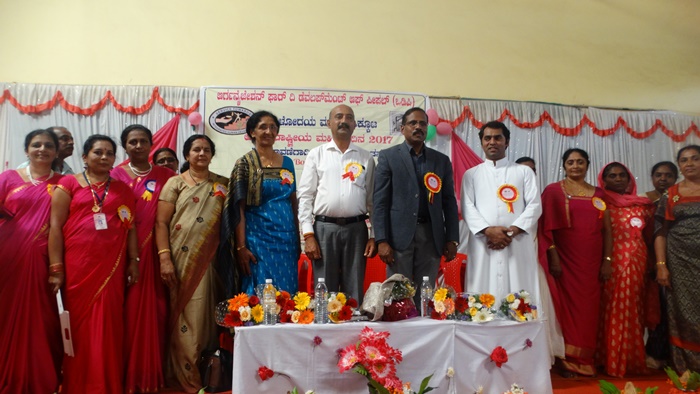 Demand for the five year plan for the development of women: Mrs. Pushapakuttanania addressed women and explained the double burden women are being carried in this society.  "Women work is invisible and valued since women are not being paid for their domestic chores.   Women are managing both duty and responsibility.  We have been un consciously following the same norms.  Till today we have not found the solutions and continue to struggle and gender parity is achieved.  It may be visible little improvement in the status of women and here and there.  Education for women and acquiring knowledge would improve the status.  We are the reason for our degrading status.  Women should initiate the process of changing our children mind set.  Yourself has to remove and reject all the confinement in the name of social norms and culture.  You have a greater role in this changing efforts.  Make use of opportunities to come out of the frame works given by the society for the women and girls" she said.
"Women development and her efficiency in performing the duties is the basic foundation for the future of the nation.  Government should include women development policy and plan for the same has to be incorporated in the 6th  five year Plan.  So far none of he five year plans have included the plan for the women empowerment.  Now we demand for the five year plan for the development of women.
Identify the change that you have to bring in next one year: Mrs. Sharada Raman, Retired officer, DWCD insisted Sangha women "Make small change and determined for that, may be your financial or economic development along with the moral responsibility for the same.  Achieve this within the next year March 8th Women's day 2018.
Fr. Stane D. Almeda, Director ODP, FrAlex Prashanth Sequera, Assistant Director, ODP, Mr. Naniah, DDM, NABARAD and Mrs. Sharada, Retired Officer, DWCD, Smt. Sumitra, President, Ponnampete Grampanchayt, were also on the dais.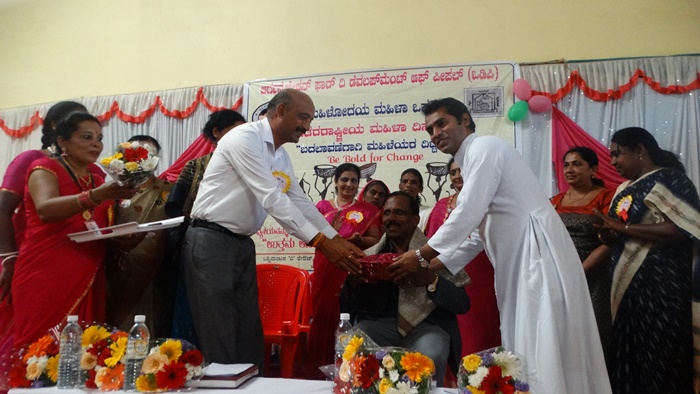 :Smt. Sumitra, President, Ponnampete Grampanchayt, Mrs, Sheela Joshappa, Women Farmer, Mrs. Sharada, Retired Officer, DWCD and Mrs. Pushap aKuttanania, Retired Prinicpal were facilitated.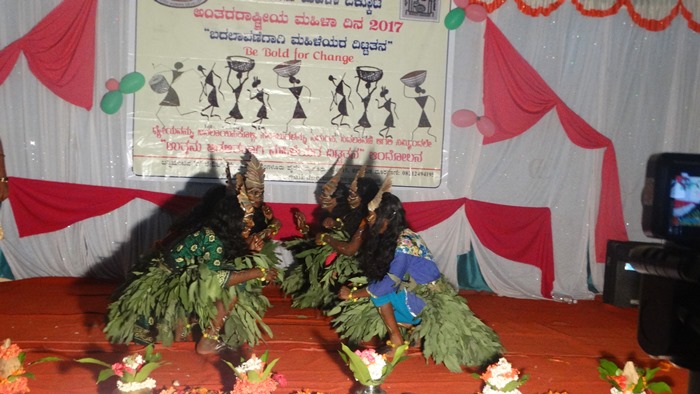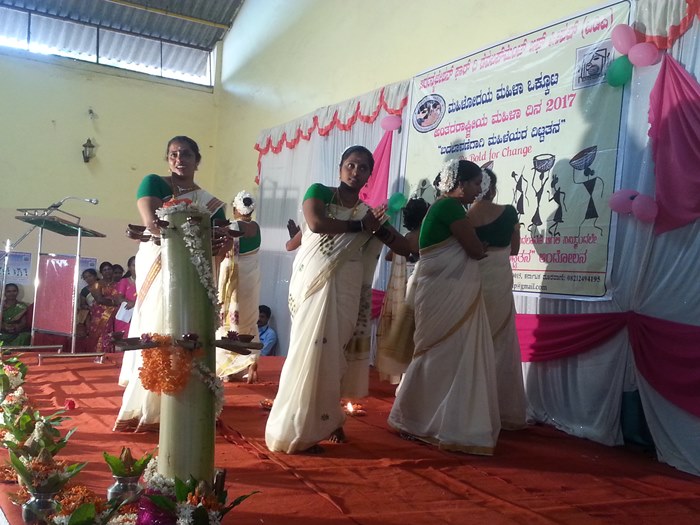 Cultural Program: Women teams performed dance on the occasion. Tiruvadirkali dance by Nalvtkare team, Folk dance by Kushalnagar team, Kolata by Maldare team, Tribal dance by Tattli tribal area performed.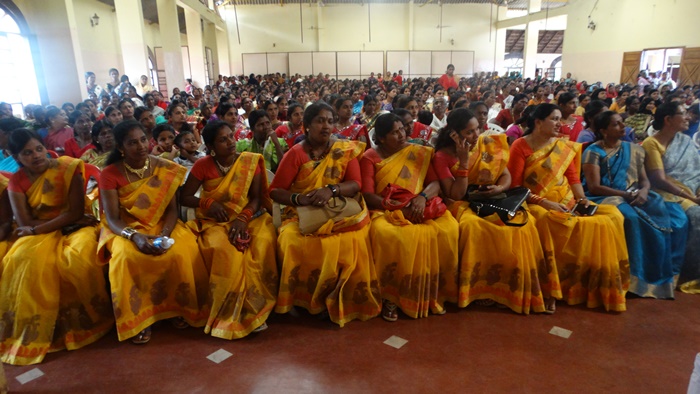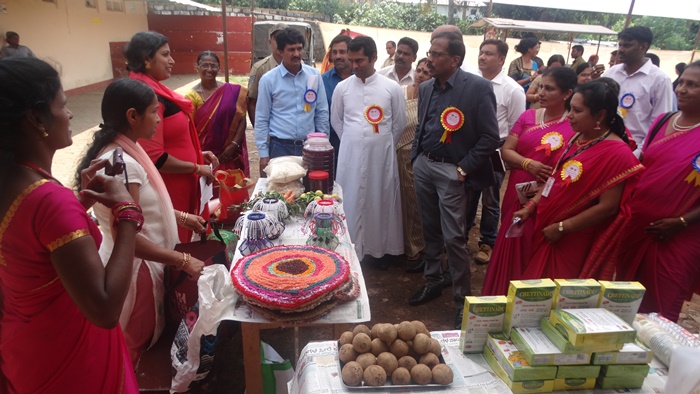 Rural Mart: Women entrepreneurs and beneficiaries of Income generation program were put up the stalls.  Women sell their products with margin price.  Consumer goods including readymade cloths, cosmetics, fancy items, eatables, snacks, honey and other forestry products were sold in the stalls.  More than 15 stalls by 10 SHGs sold their goods in the premises on the eve of International Women's day.