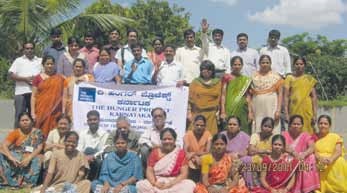 Activity Details…..
11 EWRs attended in Somawarpete Taluk Nabard watershed program orientation workshop, and world environment day in June 2011
5 Taluk Presidents and 6 EC members of SUGRAMA attended a TOT on MGNREGA organized by ANSSIRD, Mysore in Sept.,under UN Women program.
3 Dist. Representatives of State SUGRAMA members participated in 4 state level federation meetings and 1 workshop on property rights at Bangalore.
IMPACTS…..
309 Ward sabhas were conducted by trained EWRs on their own leadership.
Effective Grama sabha and ward sabha meetings have taken place in many more working areas (Specially in 220 GPs of 11 Taluks)
50 special Grama sabhas were held successfully by EWRs who are Presidents.
More concentration is being given to women issues and safe drinking water.
EWRs emphasized more transparency in GPs
EWRs gained self-confidence to work for the future.