Mysore CHILDLINE conducted CHILDLINE SE DOSTI WEEK PROGRAM-2011 from 8th to 14th Nov, 2011 as given below: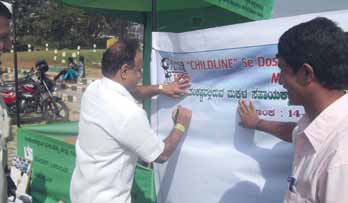 On 8th Nov, a rally was conducted around Suburb Bus Stand in which more than 125 children participated. The public was given awareness and 1098 is receiving many more calls.
On 9th Nov, "School Fair" was conducted in Rajendra Nagar Govt. School premises. More than 345 children participated in the program. Various games were conducted and prizes distributed. As a result, many poor children in schools are calling us and getting educational support.
On 10th Nov, the CHILDLINE visited 17 Police Stations in Mysore city and created awareness about the CHILDLINE project. As a result cooperation from the police has improved and they are accompanying us in rescue operations in a more timely manner.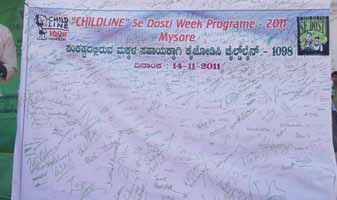 On 11th Nov, a rally was conducted in H D Kote town with more than 500 children and awareness given to the public.
On 12th Nov, a program was organized at the Mysore Railway Station and awareness was given to more than 35 Cooli workers and Rly Police. As an impact many cases of run-away children are being referred to CHILDLINE.
On 14th Nov, a Signature Campaign was organized in the Exhibition grounds. Mr.Vijay, Deputy Director of women and Child Development (DWCD) inaugurated the program by signing on the banner. Many other Government officials also signed the banner. More than 2000 people expressed their interest in the project by signing the banner to protect the rights of children. Around 2000 handbills and 1500 Friendship bands were distributed on the occasion.