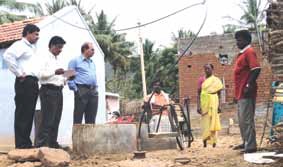 Perianayagamma, a member of Sathya SHG, is from the remote village called Jellipalya in Kollegala Taluk of Chamarajanagar District. The family consists of 5 members – husband, wife, 2 children and a dependant motherin-law. Her husband, Savariappan, aged 35, is crippled in both legs and uses a wheel chair. They are a landless family living below poverty line. The children are being educated in the local Government primary school.
The family used fire wood for cooking purpose. Perianayagamma being a member of the SHG was given orientation towards utility of bio-gas plant and was interested in installing one for her family. ODP provided her with a loan of `20,000/ and technical guidance to construct a 3 cum bio-gas plant. Mr. Ali, and Mr. Siddalinga Swamy, the ZP officials inspected the plant and were happy to recommend it for Government subsidy.
Now Perianayagamma saves up to 40 KGs of firewood each month, that is 480 KGs annually, a huge savings for the family and this is also their contribution towards protection of the environment. The family is very happy with their venture.