Name : Helen Mary, aged 46
Place : Bandipalya, Mysore Taluk & District
Children : 3 sons and 2 daughters.
Status : A widow – Illiterate, poor and unskilled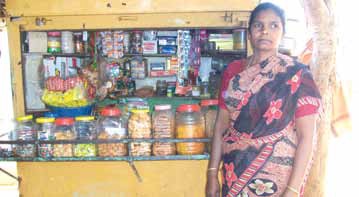 The family backdrop:
Helen Mary, a widow aged 46 and living in a small hut in RMC slum, Bandipaliya, is a very poor, unskilled and uneducated woman. She works as a domestic servant and earns just `700/ per month. Her husband, David died of Tuberculosis in the year 2008, throwing on her shoulders the burden of the care of five children.
Her elder son Anthony works in a hospital as helper and earns about `2500/ per month. Her second son, John Peter is suffering from a congenital heart disease and her daughter Jayashree is suffering from Tuberculosis. Both of them require medical care. The youngest son Santhosh is studying in the 10th Std. The eldest daughter was married and is living with her husband.
Helen faced many challenges as she struggled to maintain the family and bring up her children. Being a widow and alone, she lacked economical and psychological support from outside. There were days when she could not afford even 2 meals a day. Owning a good house, giving proper education to her children, paying for medical bills, etc. was a dream for her. She fell into huge debts of `2,23,700/, which she borrowed for maintenance of the family and medical expenses of her husband and children.
The role of the SHG in her life:
It was very providential that after the death of her husband, Helen joined the Mother Theresa Self Help Group organized by ODP in the area. She was regular for all the SHG activities and the SHG members supported her morally and financially. They helped her to come out of the shell she was stuck in and interact with people for a happier living. Her life was slowly transformed as she started gaining self-confidence and placing her trust in the other members.
The role of 'SAFP' in Helen's life:
In 2007, Helen's family was selected for assistance under 'SAFP'. Under this project selected poor families are adopted by foreign donors who support them financially for six years and during this period the poor family is assisted in all possible ways to grow and achieve self-reliance.
The coordinator and animators of the SAFP project conducted various capacity building and motivational trainings to the members of Helen's family. Together with her family, Helen unfailingly participated in these programs. Helen's communication and marketing skills improved and enabled her to establish linkages with supporting agencies, both GOs and NGOs.
The donors extended monthly financial assistance to the family on a regular basis starting with `500/ per month and adding an increment each year. Besides this, they offered substantial amount of money each year to start an income generating Activity.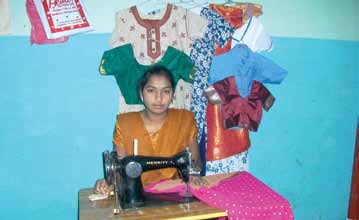 Income Generation Activities:
In the year 2008, Helen utilised `6,000/ the assistance from SAFP to start a petty shop and earn her livelihood. The shop operated well and fetched an income of about `450/ per day, i.e. about `7,000/ per month. Now Helen was able to manage her day to day expenses of education of children, medication, food, clothing, shelter, etc. She also started clearing her debts.
She turned out to be innovative and enterprising. She approached ODP and the federation for assistance and was able to take small loans and avail facilities, such as solar light and smokeless chulha. Helen also contacted Government departments and was able to build a house under the Government welfare scheme.
With exposure to wider knowledge through participation in the trainings and awareness programs organized by SAFP Helen decided to widen the scope of her business. Helen used innovative methods taking up multi IGP activities from her SAFP funds, like –
goat rearing for which she utilized `4000/ to buy 2 goats in the year 2009 which now has multiplied to 23 goats. In between she sold 5 goats for `17,000/.
`6,000/ in the year 2010 to buy a sewing machine with which her daughter is able to stitch basic clothes and earn about `1,400/ per month.
`15,000/ in the year 2011 to purchase utensils for catering to food services for social functions on rent. With this Helen earns about `3000/ per month.
These Income Generating Activities provided Helen with a solid means for sustainable livelihood.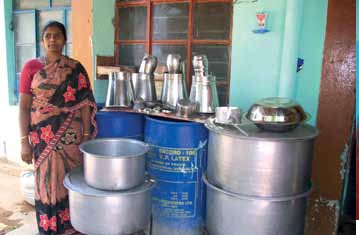 Helen's status today:
Helen's hard work and entrepreneurship was slowly yielding dividends. Today the family's gross income per month is about 30,000/ and the net profit is about 15,000/. All this was possible because of her association with the SHG, the role SAFP played in her life and all the techniques and skills the family acquired in communication, investment, business, customer service, negotiation, marketing, etc. and implemented in pursuit of a better status in life. Above all, it is Helen's grit, determination, courage and will to thrive that has made the difference.
Conclusion:
Today Helen is economically empowered and is able to manage all the needs of her family. Her debts have decreased; her younger daughter got married, she has constructed a small house and also educated her children. This has been possible due to the effort, efficiency and hard work of Helen who was motivated to bring out her best through her active involvement in the SHG and the Family Development Program of SAFP.
Lend a helping hand – build a family