The 1st CHILDLINE Advisory Board (CAB) meeting was organized on 24th March 2011. 28 members from various Government departments, schools and NGOs,participated in the meeting. They were briefed about the works done in Mysore under the CHILDLINE project. They gave a number of suggestions to make the program outreach more, like – announcing about the program on radio publishing in newspapers, putting up stickers on the local buses, etc. As the DC
could not attend the meeting the decisions were not finalized.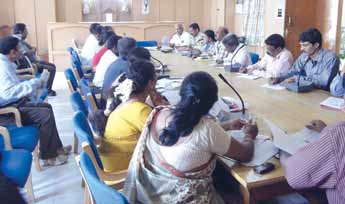 The 2nd CAB meeting was held on 29th Oct, 2011 at the office of Women and Child Development Department. 50 members participated in the meeting. The following issues were put forward in the meeting for consideration by the DC:
Formation of 'Child Labor Raiding Team'.
Letter to labor department to conduct regular raids.
Letter to the GM of BSNL to help resolve phone connectivity problems.
Letter to KSRTC Divisional Controller for permission to conduct awareness in the bus stands with a stall in stalled; and to exhibit the CHILDLINE number and symbol on the local buses.
Letter to DDPI for permission to create awareness in all schools of Mysore District about CHILDLINE
Letter to all the Police stations and the Labour Inspectors to accompany the CHILDLINE team members during the rescue process of child laborers.
Letter to Railway manager for permission to create awareness in railway stations.
Signing the ID cards for CHILDLINE staff members.