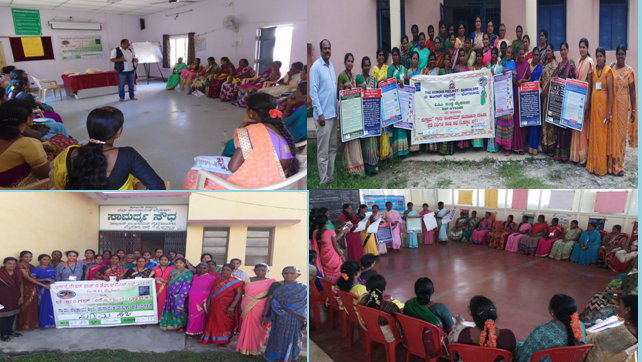 Goal:
·         Demonstrate the effective role that women can play in Panchayats in addressing key development problems.
·         Establish Panchayat based plans by creation, resource mobilization and implementation of effective plans.
·         Demonstrate Panchayat led initiatives for food security, health care, justice and equality .
·         Capacity building and empowerment of poor  and marginalized       women elected as Panchayath members  so that they can  function effectively for better local governance.
Aim: To build a collaborative space for women in local governance.
ACHIEVEMENT OF GOOD GOVERNANCE:
·         Promotes community confidence
·         Encourages elected members and council officers to be confident
·         Leads to better decisions
·         Helps local government meet its legislative responsibilities
·         Supports ethical decision making.
Through  the  SWEEP campaign 183  programs were conducted  with a direct outreach  to 5636 women. Awareness was also provided to 60,000 people through the campaign.
Activities Undertaken:
·         In the 2015 elections 84 EWRs are presidents and 72 EWRs are vice presidents of the GPs where they contested.
·         52 Women Leadership Workshops (WLWs) were conducted for 3648 EWRs from 424 GPs
·         47 WLW follow up workshops were held in 19 Taluks for 1511 EWRs from 353 GPs
·         A resource team of 18 members was formed, trained and used for trainings
·         154 trainings were held on "Panchayati Raj Rules" for 5606 women members of SHGs and the ODP Mahilodaya federation to garner support through their political awareness
·         14 Media workshops were conducted to sensitize 150 journalists.
·         472 EWRs of 84 GPs were trained on the RTI Act
·         Need based workshops were conducted in all the terms as per needs like – MGNREGA, RTI Act, DV Act, Women and Law, Awareness on Malnutrition / Nutritious  food,  etc.